If you are a multi-passionate, mission-driven womenpreneur in dire need to reconnect to yourself, rediscover who you are, and re-evaluate what matters most, gift yourself the space you need to create a meaningful way forward & the impact you are destined to.
---
---
Waking up to a change of scenery – nature and wide open spaces where you can destress and actually hear your thoughts.
Focusing on yourself guilt-free and unapologetically; tending to your body, heart, and mind.
Enjoying yourself even as an introvert. Not feeling you have to be 'on' because personal time is part of the experience.
Actually 'doing the work' with other like-minded women that you've been putting off so that you don't return home the same as you came.
My Promise to You
By the end of this retreat you will have reconnected with yourself, rediscovered what matters most, and gained the clarity needed to create an aligned vision for yourself and your business that allows you to move forward in a meaningful way.
---
You had me at guilt-free & wide open spaces! Register me now!
---
*Order subject to change.*
DAY ONE: THURS, SEPT. 15
10a Arrivals, check into rooms
We begin at 11a EST sharp.
Walking Tour: Serenbe History & Philosophy

Welcome+Working Lunch

: The Problem is not the Problem

Session II

: What's in Your Hand?: Perception, Mindset, & Opportunity

Session III

: Seasons, Rhythms & Workflows: Work-Life Integration
Dinner in Atlanta
DAY TWO: FRI, SEPT. 16
Breakfast

Session IV

: Nicole Evelina: A Woman's Place – Ourselves in History (Period attire)
Lunch, The Farmhouse

Session V

: Finding Value in Your Story: Your Life as Hero's Journey

Session VI

: Vision Re-alignment (Life & Business)

Session VII

: Labyrinth Exercise
Private dinner, Vegan Chef
Bonfire
DAY THREE: SAT, SEPT. 17
Breakfast

Horseback+Session VIII

: Taking the Road Less Traveled

Session IX

: Harnessing Your Power as a Multi-passionate & Protecting Your Vision in a 'Choose One' World
Lunch in Serenbe
Spa, Massage
Leisure, Journal experience
Commitment, Dinner Under the Stars, Serenbe Chef
SUNDAY, SEPT. 18
Departures by 11a EST
---
Khrys Vaughan, PMP, SCSP is a Strategist, Creator, Disruptor, and In Her Company's Chief Catalyst. She has served on various boards/committees including SBA/Small Business Week-St. Louis, JCI International, Women Build/Habitat for Humanity, the Hampton Roads Civic Ballet, and The Bread Ministry, an organization that fed 18,000 families from the East Coast through Arkansas.
Khrys produced an industry-first webcast, pilot for internet television, the 1st Women in Green Technology panel, and a weekly radio show featuring diverse women in business that reached over 16,000 listens.
Khrys was recently featured in Authority Magazine on why more women founders are needed, & Ticker News-Australia regarding why multi-passionate womenpreneurs hold the solutions to today's issues. Khrys also participated in Fearless Fund/Steve Madden's inaugural venture capital program.
---
Nicole Evelina is a USA Today bestselling author and biographer. Her six books have won more than 40 awards, including four Book of the Year designations, the North Street Book Prize and the Sarton Women's Book Award. Her novel, Madame Presidentess, was previously optioned for film.
Nicole, also, has three books under traditional contacts:
Sex and the City, a Cultural History, scheduled for publication November 15, 2022, by Rowman & Littlefield.
America's Forgotten Suffragists: Virginia and Francis Minor, the first ever biography of this husband/wife suffrage couple, to be published March 1, 2023 by Globe Pequot.
Fierce Females of Television: A Cultural History, to be published by Rowman & Littlefield in 2023.
Nicole's fiction tells the stories of strong women from history and today. Her writing has appeared in Huffington Post, The Hill, The Philadelphia Inquirer, The Independent Journal, Curve Magazine and numerous historical publications. She is represented by Amy Collins of Talcott Notch Literary. www.NicoleEvelina.com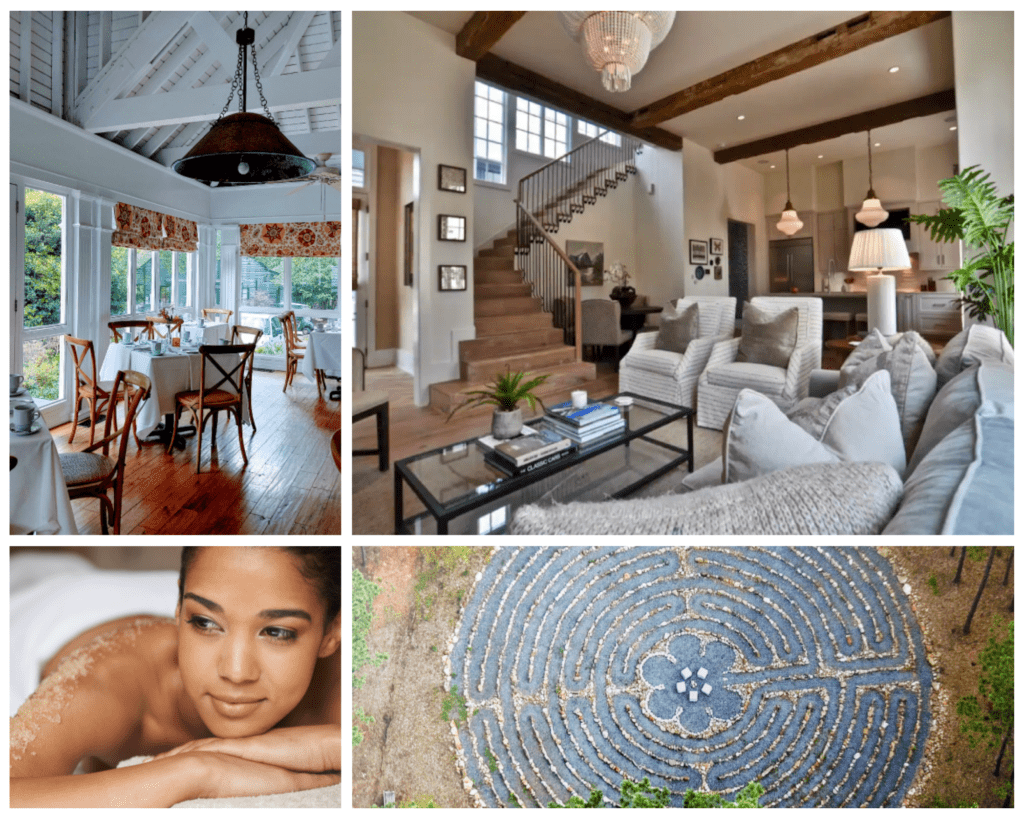 The Village at Serenbe (25 minutes from ATL Airport.)
Retreat is all-inclusive covering lodging, meals, activities. You are responsible for your own airfare and transportation to & from airport.
Early Registration until 7.31.22: $4,237 USD.
Late Registration begins 8.1.22: $4,837 USD. Registration Ends: Noon EST, 8.12.22
---
---
Select an option below. Upon payment, you will be redirected to complete registration. An email confirming your spot along with logistics will be sent within 48 hours.
---
---
LODGING
Lodging is assigned by order of registration. Attendees will share luxurious common areas, but have their own bedrooms (king beds) and bathrooms with the exception of two double-occupancy spaces (full/queen beds).
What does all-inclusive mean?
All-inclusive means your fee for the retreat, lodging, meals, and scheduled activities are covered. Airfare, car or golf cart rental, transportation to and from the airport, snacks, other incidentals are your responsibility.
When should I arrive?
We begin at 11a EST sharp, Thursday, September 15th. You are encouraged to arrive by 10a the day of to check into your room prior to the tour. Arrangements can be made for early arrival the evening prior for an additional fee, but is not guaranteed as Serenbe is a highly desired award-winning biophilic community.
Is a payment plan available?
Yes. We want this experience to be as accessible as possible, allowing you to make installments and elevate your life and business. Besides payment in full, you have the option of three (3) bi-weekly payments, or six (6) months interest free via PayPal Credit allowing additional time.
What is your refund policy?
The cost was set to keep the experience as accessible as possible, and challenge you to invest in yourself and the next level outcome you seek. We have a strict no-refund policy to remove the option to quit on yourself. Should something happen, we will miss you, but no refund. No exceptions.
Will this be offered again?
This thought actually serves to keep you in your comfort zone, preventing you moving towards what you truly want. You are being stretched and invited into a higher version of yourself. Focus instead on what the experience is positioning you for.
I am local. If I do not need accommodations, is there a discount?
No. Rates were not negotiated on a line item basis, removing one will not necessarily lower the cost. Your investment covers more than lodging, but logistics, materials, fees, speaker fees, labour, et cetera required to provide an elevated experience.
I need to pray about it.
You have already prayed. Now it's time to act, not pray yourself out of your answer. Give yourself permission to do so.
I cannot afford to attend.
Nothing changes unless we do. Can you afford not to?